Supervisor: Eike Roswag-Klinge
As a practice-based doctoral thesis, Change Now, Architecture Later sets out to investigate the societal, institutional and disciplinary narratives and challenges facing educators, students and project partners as participants in emergent and collective learning processes.
The 2020s condition of constant crisis continues to deliver urgent new narratives for change that can only be satisfied by immediate and continuous action. Yet architecture practice is still faced with some hard truths regarding the climate emergency, resource scarcity, diversity and ultimately, its relationship to an intransigent building sector. The changes facing the next generation of practitioners will be profound and permanent. As teachers, we are constantly in contact with students who will form this next generation and question some of the outdated values and assumptions at the core of the architecture profession. Their values and ideology, formed in early practice experiences, can and will exert a lasting and positive effect. As practitioners, we also can bring new knowledge, innovation and approaches into reality through pilot projects, prototypes and processes. As researchers, we document, theorise, innovate and challenge to improve our practice. We are in constant motion, but we still have to consider the big picture – whether what we are doing is good, proper or effective? The investigation looks to formulate these questions in relation to societal, institutional and disciplinary narratives and find new ways of reflecting on my practice at Natural Building Lab since 2018.
Over the last twenty years, practice-led, practice-based and performative research approaches have grown in prominence alongside the established quantitative and qualitative traditions, providing new ways to make creative practice a valid form of research. Although design-driven research has emerged as a discipline-specific form of practice-based research in architecture, there is a research gap in exploring these approaches through a less building-centric, more collective and holistic understanding of architecture practice and its associated learning processes. Architectural education is as diverse as the field itself, and this is both its strength and weakness. Architects have a lot to contribute to the discussions in today's higher education landscape, for example, relating to inter- and transdisciplinarity, transformative research and the applications of formats such as living laboratories. Yet investigations into the pedagogy of architecture are both relatively limited and disproportionately dominated by theory based on Schön's "reflective practitioner". In reality, the lack of coherent training for teaching staff means that most approaches often tend to reproduce what the teachers themselves experienced during their studies rather than looking towards the future.
Change Now, Architecture Later does not formulate a complete and universally applicable solution for the future of architectural education; it does document, theorise, perform and evaluate new forms of collective and process-orientated teaching practice. But ultimately, the thesis is about finding new ways of looking at, interrogating and challenging my creative practice. This is achieved using qualitative methodologies such as ethnographic enquiry, interview and reflective practice, artistic and performative methods and media such as collective practice, performance, film and exhibition. Each part of the thesis is accompanied by a practice element, which delivers an impulse for each section by reflecting on previous experiences using different media or providing new themes through participatory discursive formats. By testing these different approaches, the investigation delivers a personal and situated insight into how university educators can support the next generation of designers in developing a critical and reflective approach to their spatial practice as part of a broader transformation.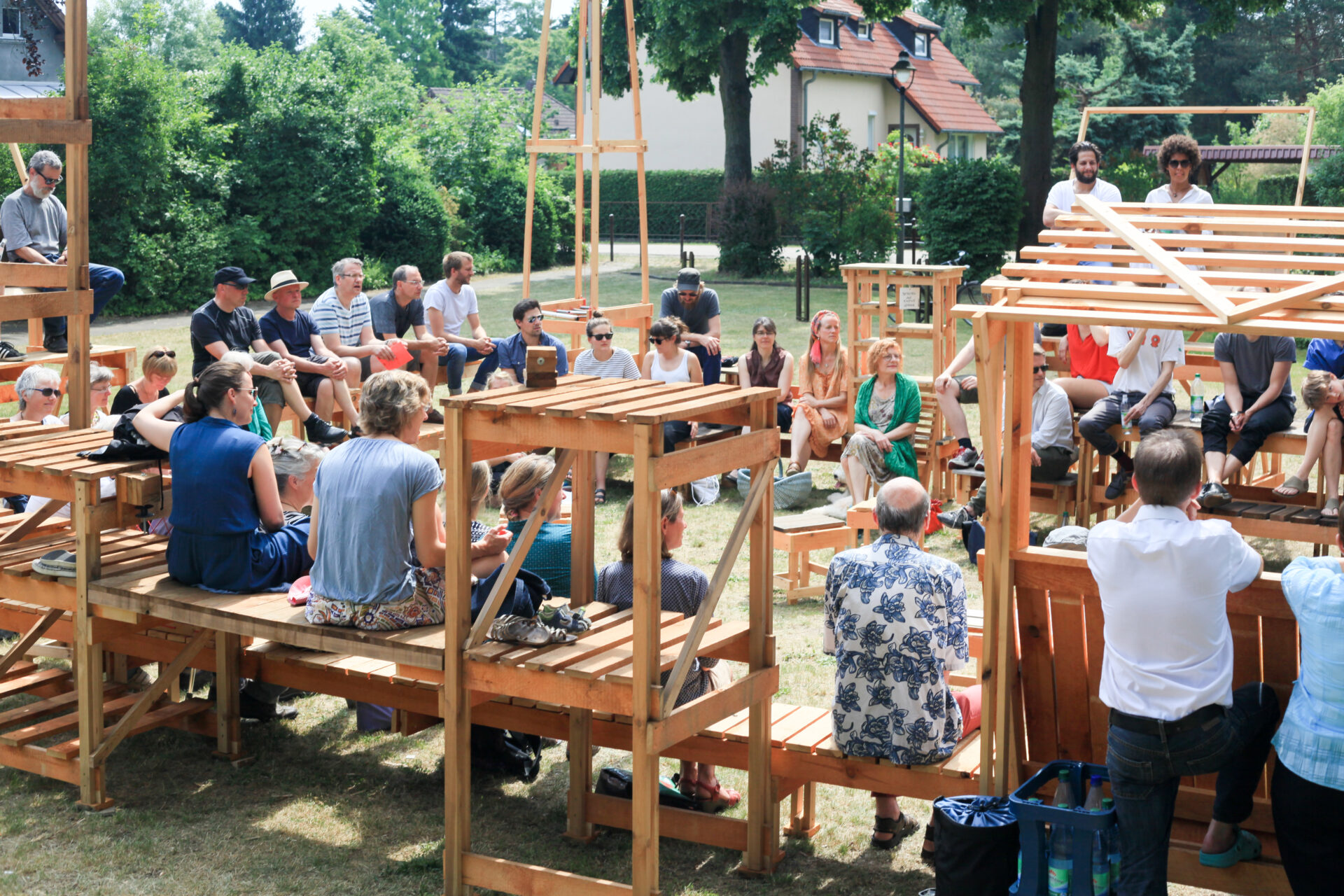 Key Literature
Awan, N., T. Schneider, and J. Till. Spatial Agency: Other Ways of Doing Architecture. Taylor & Francis, 2013.
Bianca Elzenbaumer. 'Designing Economic Cultures – Cultivating Socially and Politically Engaged Design Practices against Procedures of Precarisation'. Phd, Goldsmiths, 2014.
Gray, Carole, and Julian Malins. Visualizing Research: A Guide to the Research Process in Art and Design. Aldershot, Hants, England ; Burlington, VT: Ashgate, 2004.
Haseman, Brad. 'A Manifesto for Performative Research'. Media International Australia Incorporating Culture and Policy Practice-led Research, no. 118 (2006): 88–106
Manzini, Ezio. Design, When Everybody Designs: An Introduction to Design for Social Innovation. Cambridge, Massachusetts: The MIT Press, 2015.
Schön, Donald A. The Reflective Practitioner: How Professionals Think in Action. Routledge, 1983.
Smith, Hazel, and Roger Dean. Practice-Led Research, Research-Led Practice in the Creative Arts. Practice-Led Research, Research-Led Practice in the Creative Arts. Edinburgh University Press, 2022. https://doi.org/10.1515/9780748636303.
Udall, Julia. 'Tools to Create Agency at Portland Works: The Craft of Commoning'. Phd, University of Sheffield, 2015.
Wenger, Etienne. Communities of Practice : Learning, Meaning, and Identity. 1. paperback ed. Learning in Doing. Cambridge
Ziemer, Gesa. Komplizenschaft: Neue Perspektiven Auf Kollektivität. X-Texte. Bielefeld: Transcript, 2013.