Launching the Lab was a two day kick-off event for the Natural Building Lab at the TU Berlin. The second day was structured as a symposium, with diverse members of the NBL's network holding a series of impulse lectures. In the evening keynote presentations were held by Anupama Kundoo & Ottomar Edenhofer before the Natural Building Lab team's kick-off lecture.
10:00 – 13:00
HEALING SPACES / FORUM
Symposium discussing the design and realisation process for the Jiyan Healing Garden in
Chamchamal, Kurdistan-Iraq; a collaborative DesignBuild project developed by The Jiyan
Foundation for Human Rights, ZRS Architekten Ingenieure, TU Berlin and BORDA Bremen.
14:00 – 17:30
NETWORK LECTURES / FORUM
Opening Remarks / 14:00 – 14:20
Eike Roswag-Klinge, Natural Building Lab, TU Berlin / ZRS Architekten
Jörg Gleiter, Director Institut für Architektur, TU Berlin
Panel 1 / 14:20 – 15:20
Katja Hennecke, Orgwerk, Munich, DE
Pete Walker, University of Bath, BRE Centre for Innovative Construction Materials, UK
Emmanuel Heringer, Geflecht + Raum, DE

Exhibition Introduction & Break / 15:30 – 16:00
Farrokh Dherakhshani, Director of the Aga Khan Award for Architecture, Switzerland

Panel 2 / 16:00 – 17:30
Sergio Palleroni, Center for Public Interest Design, Portland State University, USA
Nanni Grau, Universität Kassel, Hütten & Paläste, DE
Kiran Vaghela, Hunnarshala Foundation, Studio Dot, IN
Philipp Misselwitz, Habitat Unit Chair of International Urbanism and Design, TU Berlin, DE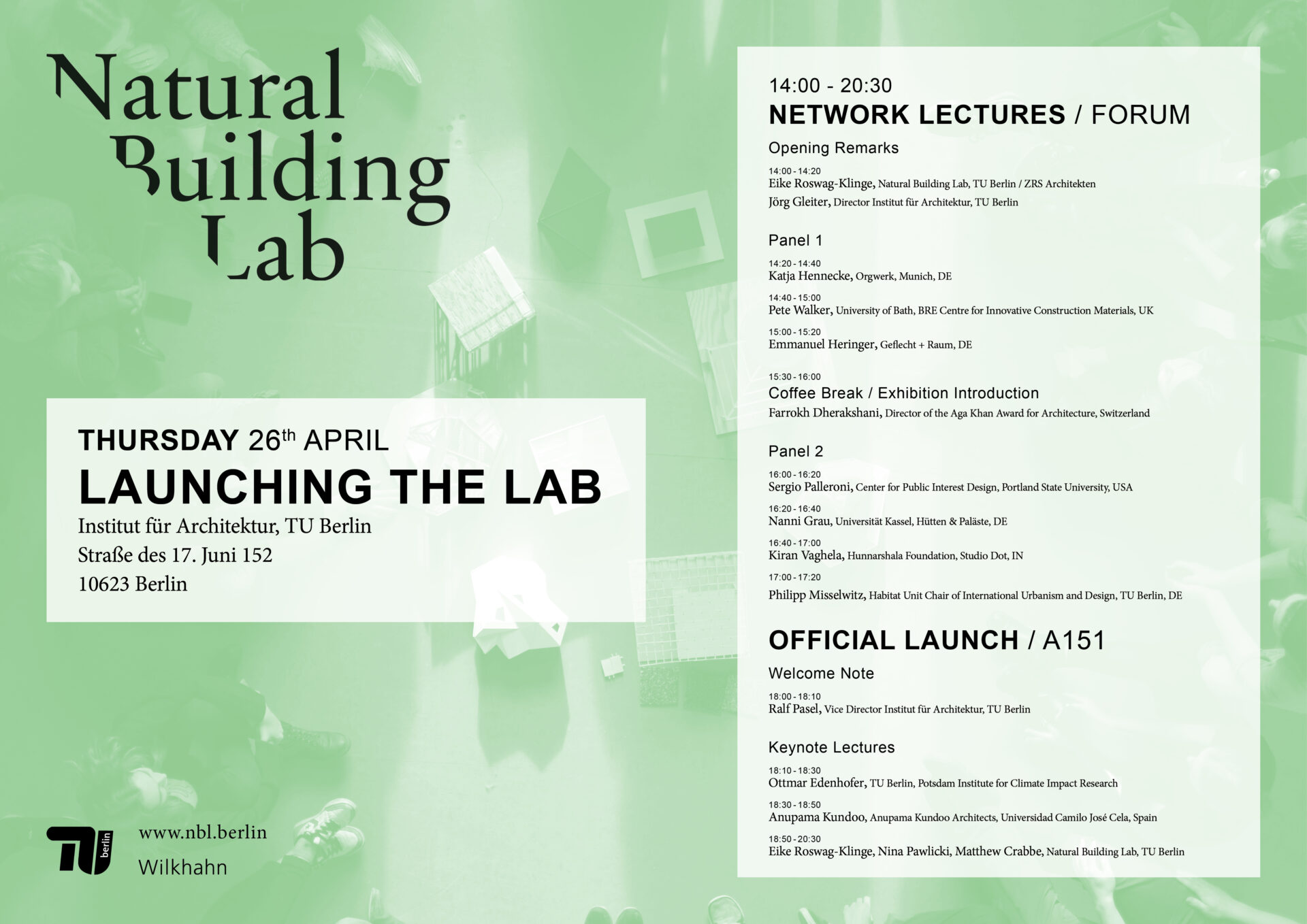 8:00 – 20:30
OFFICIAL LAUNCH / A151
Welcome Note / 18:00 – 18:10
Ralf Pasel, Vice Director Institut für Architektur, TU Berlin
Keynote Lectures

Ottmar Edenhofer, TU Berlin, Potsdam Institute for Climate Impact Research / 18:30 – 18:50

Anupama Kundoo, Anupama Kundoo Architects, Universidad Camilo José Cela, Spain / 18:50 – 20:30

Eike Roswag-Klinge, Nina Pawlicki, Matthew Crabbe, Natural Building Lab, TU Berlin / 20:30 – 21:00