Just 1/3 of Germany's timber harvest annually would provide enough raw material to cover all domestic new construction. Berlin is expanding at an unprecedented rate and there is an increasing awareness that building with timber is the only solution to the housing crisis that can also allow Germany to meet the targets of the Paris agreement.
Participants
Max 20
Language
EN/DE
Studio
Thursdays 10-18:00
Various Digital Locations
First (digital) Meeting
Thursday 23.04 / 10:00
Application
Deadline 16.04 via ISIS
https://isis.tu-berlin.de/course/view.php?id=19238
Open Studio Q&A Session
Tuesday 14.03 / 13:00 – 14:00 / via innocampus
Yet despite 37% of Brandenburg being classified as forest, timber construction is relatively underdeveloped in comparison to the southern Bundesländer, making it a considerable socioeconomic potential for the region. As such the need for expertise and capacity building in all branches related to timber construction is high on the political agenda for both states. Considering the potential of timber for the wider region of Berlin Brandenburg will be the point of departure for the re:source Timber design studio.
Yet wood is far more than just a potentially renewable material that can sequester CO2, it is also the woods productive social landscapes providing myriad cultural, economic and environmental benefits. Moreover they are also delicate eco-systems and valuable reserves of biodiversity that require careful stewardship to allow us to reap their benefits. 70% of Brandenburgs forests are made up of pine trees, the most commonly used type of wood in the building industry, yet these mono-functional plantations all over Germany are suffering under stress from the pressures of global heating and infestation. Although the process ofWaldumbau –transforming areas from pine to more robust mixed deciduous forests with species such as beech began almost 20 years ago, it will take time for the industry to adjust to the character and properties of these new products.
In the first part of the semester we will look to expand our understanding of timber as a resource and map the processes and value-chains associated with bringing wood from the forest to the building site. We will also consider the potential of timber as a circular resource and investigate the application of ideas like cascading usage of timber for urban timber construction. In the second part of the semester we will use this knowledge to inform designs for a new mixed-use neighbourhood in Berlin Mitte. The Molkenmarkt used to form part of the historic center of Berlin, yet fell victim to the car-centric city planning of the post war era. New plans for the area have been in discussion for more than a decade, especially due to their association with the critical reconstruction paradigm of the infamous 1990s "Planwerk Innenstadt". Having critically navigated this complicated legacy, a series of new strategies for the area were developed in last semesters master design studio "Mitten in Gemeinwohl? Planwerk Innenstadt Reloaded" from CUD – Chair for Urban Design and Urbanization. The urban concepts will form the basis of our design project. Expanding on their work we will develop detailed constructive designs for a series of mixed-use typologies in timber informed by an understanding of the processes associated with timber as a re:source for a rapidly changing Berlin Brandenburg region.
Timber as Asset
The project »Timber as Asset« traces the sociocultural development of Berlin Brandenburg's forests in a timeline starting in the 18th century and looking into the future. The timeline traces four main themes: the way that public/political discourse with regard to forestry in the region have evolved, developments that have seen the regions perception of forest oscillate between a source of material and income to a cultural resource used for leisure and tourism. Furthermore, it traces specific jobs and activitiesrelated to the forest that have had an important role at different points of time, emblematic of the change from traditional to digital forest management. Thirdly the timeline considers pieces oflegislation in Berlin and Brandenburg that are forming the groundwork for a carbon free society in the future, with a focus on wood construction. The final theme is building culture through materials and construction methods, from primitive wood buildings to brick and steel, and the recent rise of wood construction in Berlin and Brandenburg. The timeline creates multiple storylines that split, interlink and merge. It allows viewers to find connections between the topics at every step of time and forms a lookout into the forest topics of the future.
Timber as Material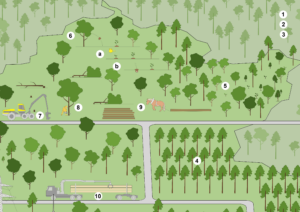 Timber as Reserve
The project Timber as Reserve looks at Berlin Brandenburg's forests as a place of storage, a reserve for sequestered carbon and for biodiversity. This analysis takes the form of a father and daughter's animated walk through a forest taking in various stops and features. They learn how the forest has been weakened by climate change in the last years and how this situation worsens every day. What happens to the ecosystem when the frequency of Droughts and extreme rainfalls rise and what has that to do with for example vermin damage? At the same time they understand what a big role proper forestry actions have and how by this the climate can also be impacted. The correlation of lumbering on biodiversity, its natural habitats and the the forests condition gets addressed. Is it better for the forest to be left untouched or should wood be harvested? What does a "healthy" forest look like? Which measures need to be taken and by whom?
Timber has a huge potential to change our building industry to a more sustainable one, since it acts as a CO2 storage. We have to understand the ecosystem forest in its complexity to improve the way and amount of lumbering but at the same time secure natural habitats and the species living in it.
Video coming soon!
Elena Armbruster, Johanna Becker, Lorraine Davy, Jonathan Peters, Aristide Schöndienst, Emma Verdier, Fiona Zimmer
Timber as Material
The supply chains that support the timber industry are hugely complex, often freshly felled trees are processed directly into chipboard or other low quality products with limited reuse potential. In the sense of a circular economy in timber, the usage and degradation of timber products can be considered as a cascade. The cascade shows an optimized way of using the natural resource by going through each level of condition, such as: solid wood, wood veneer, chipped wood and fibre based wood products. Ideally usage should be prolonged in the higher parts of the cascade. In our research we tried to find out to what extent the cascading use of timber can already be found in Berlin Brandenburg and how companies are using these ideas to save the resource timber. In order to do this we undertook a series of interviews with companies in Brandenburg and visualized the real cases in the theoretical cascade of timber usage.